Life Foundations – Mike and Carrie Pickett (Interactive)
$120.00
Learn six key foundational truths that will revolutionize your relationship with God, empower you to overcome every attack of the enemy, and give you the ability to minister to anyone, at any time, about anything. The most important part of a structure is its foundation. These truths will help you establish a firm foundation in the Word of God.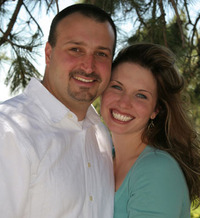 Mike and Carrie Pickett, Vice President and Assistant Vice President – Charis Bible College Colorado
Mike was a missionary in Russia for eleven years where he meet his wife, Carrie. Carrie graduated from Charis Bible College in 1999 and moved to Russia planting a Charis Bible College and Andrew Wommack Ministries office. Mike became an instructor in the school and eventually the director of Andrew Wommack Ministries of Russia. Together they grew the Russian ministry to reach over 14 Russian speaking nations.
In 2015, Mike and Carrie returned to the United States and the couple now directs the AWM and Charis's international operations. Mike and Carrie have a heart to reach the world with the grace message and to see powerful ministers raised up with a great commission vision. They have two children, Elliana and Michael, their "missionaries in training."
Courses Taught by Mike and Carrie Pickett:
"Receiving a progressive revelation of God's love has made me bolder and more confident. I recently was so anxious about a situation and battled thoughts for days. I could have felt condemnation and guilt like I have disappointed God, but I know God Loves me and this helped me stand boldly learning from this experience and empowered knowing God loves me." T. O., Nigeria
"Mike and Carrie are a lovely couple and their delivery is full of humor while saturated with the truth of the Word of God. I am actually encouraged by their stressing the importance of making our understanding of these life foundations a life commitment, because I think I could very easily be deceived into thinking I needed to move onto 'higher' things – well, maybe after this course I won't be so easily deceived!" Carolyn K., Switzerland
"I realized I had a limited view of God's love for me. I was raised with the idea that God was a punishing God. Diving deeper into the various scriptures Mike and Carrie provided is helping me renew my mind and heart about how infinitely God loves me." S. J., Arizona